Elca Talk app is offering free 100 minutes calling anywhere in the world. Yes just download the app, sign up and start calling your friends for free anywhere in the world !! Offer is for limited period of time.
ELCATalk allows you to connect with contacts, friends and loved ones all over the world using free or cheap calls, multimedia chat and other cool calling features. ELCATalk is also available on iOS devices.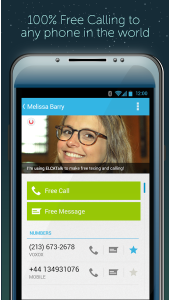 To get started:—>
1. Just download the app from here:—>
Android Users |
iPhone Users
2. Now open the app > Sign Up > Enter Country Code, phone number, email id, username and password to create new account > Click on > "Sign Up"
3. A 4-digit activation code will be sent on the that number. Check your messages and enter it here > "Click on"
4. Thats it !! Your account will be created and free balance of $1.00 will be credited to your account which you can view by clicking on "More" tab.
5. Now start calling. You get free 100 minutes of calling anywhere in the world.
Not only this, you can call an Elca Talk User unlimited free of cost. So ask your friends to download this app and enjoy unlimited free calling with them !!
Features of ElcaTalk -
FREE INTERNATIONAL CALLS:
ELCATalk to ELCATalk calls are always free. There is no cost to send ELCATalk messages internationally. Chat with your friends all over the world as long as they have ELCATalk installed, and avoid international call and SMS charges.
CHEAP INTERNATIONAL CALLS:
Make cheap international calls to other non-ELCATalk users with rates as low as 1 cent per minute to the US and CANADA from anywhere in the world.
NO HIDDEN COSTS:
Once you and your friends download ELCATalk, you can use it to call or chat as much as you want with UNLIMITED, FREE messages and call minutes to your friends for free! ELCATalk uses your Internet connection: 3G/EDGE/LTE(4G) or Wi-Fi when available.
NOTE:
Your Operator may charge you for data usage.
MULTIMEDIA and LOCATION SHARE:
Share Videos, Images and location with your friends and contacts.
RECORD, TRANSFER, SCREEN CALLS and much, much more! Press *1 during any call to activate call recording. Press *2 to Transfer.
VOICEMAIL AND OFFLINE MESSAGES:
People can leave messages and voicemail for you and these are saved so that you can get to them at your convenience. ELCATalk even transcribes your voice messages to text so you can read them instead of listening to them play back.
FIND ME:
With our FOLLOW ME/FIND ME feature, if you are not near your phone with the ELCATalk app or it is out of battery, we can direct your call to up to 5 phone numbers so that people can reach you wherever you are.
LANGUAGE TRANSLATION:
ELCATalk can automatically translate the text messages you send and receive to/from dozens of languages.
ADDRESS BOOK CONNECT:
Your phone Address Book automatically connects you with your all contacts. Contacts already using ELCATalk will be displayed prominently, automatically. You can, of course, invite friends to join or connect with others using ELCATalk.
CONFERENCE CALL:
ELCATalk lets you conference up to 20 people on your call. Just press *3 to conference.
CALLBACK FEATURE:
Do not have your ELCATalk phone? No problem! Our CALLBACK feature lets you connect using our Callback number.