This Time UC Browser For PC Has Got An Offer For You All Named Super Days . Hope You Remeber UC Super Wednesdays In Which You Were Getting Amazon GVs Every Wednesday So This Time Super Days Are Back And That Too Continuous Days That Is From
9Th Feb To 15Th Feb
. This Time We Are Getting Flipkart Gift Vouchers Also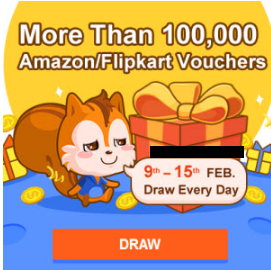 How To Get Get Gift Cards ?
1. Download UC Browser From
Here
.
2. Install The Browser
3. Open The New Tab And You Will See Super Day Banners .
4. For Those Who Are Not Able To See Banners Directly Click Here
5. Now Click On Super Day Banners
6. And It Will Redirect You To A Page With A Popup For A Draw.
7. Click On Draw And You Will Get A Prize .
8. We Also Got A 20Rs And A 500 Rs Amazon GV Each In Laptop And PC
9. Offer Only Applicable For PC Browser
10. So What Are You Waiting For Get Set PC.
Terms And Condition :-
1. Offer Only Valid For PC Users .
2. You Can Draw Daily From 9Th To 15Th Feb .
3. No Use Limit Means Offer For All Users
4. If You Win You Cannot Draw Again That Day .
5. You Will Get Two Draws Each Day
6. If You Lose 1St Draw Second Draw Is Yours .If You Win In First Spin Second Spin Is Not Yours .
7. If You Win Open Same Link In UC Browser To See Your Prize Code On 15 Th Feb .
Proof :-