In this week's Tatasky Jingalala Saturdays offer, Users can subscribe to Kids pack channel at Re.1 for 30 days. Subscribe to the channel and make sure the kids at the house enjoy watching it.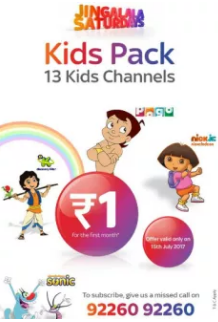 Note – This Pack is for one month only. So, remember that you have to deactivate this pack from next month if you don't want to pay for it from next month onward.
How to get Kids pack channel at Re.1? :
1. To avail this Offer, the Eligible Subscribers must subscribe to Kids Pack on July 15, 2017 anytime between 00:00 hours and 23:59:59 hours by any of the following methods:
Method 1
:- Missed call: By giving a missed call on 92260 92260 from the Registered Mobile Number ('RMN') of the Eligible Subscribers.
Method 2
:- Tata Sky website: By logging on to My Tata Sky on
www.mytatasky.com
.
Method 3
:- Helpline: By calling the Tata Sky helpline number 18602086633.
Method 4
:- SMS: By Sending Add KIDS to 56633 from the RMN of the Eligible Subscribers.
2. That's it! The offer will be activated soon on your Subscriber Id.