Paytm Krackjack offer – Get Free Rs 15 Paytm Cash on Pack of Krackjack worth Rs 25. Paytm Krackjack offer – www.paytm.com/krackjack Get Rs 15 Free Paytm Cash on Krackjack Pack of Rs 25. Offer valid for 3 Times per Paytm account. This Offer is valid in India from 15th March 2017 to 15th September 2017. So Hurry up and Buy Krackjack pack worth Rs 25 and Get Rs 15 Paytm Cash on it !!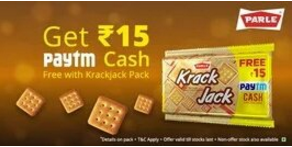 How to Get Rs 15 Free Paytm Cash from Krackjack Pack ?
1) First of all, Visit on your Nearest General Store which has new packs of Krackjack.
2) Buy a Krackjack Pack of Rs 25 (Make sure Paytm Krackjack offer is mentioned on it (See screenshot below).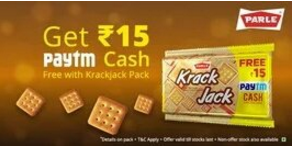 3) Buy Krackjack and Open the Pack.
4) Look for a Promocode inside the Pack.
5) Now
Visit Paytm KrackJack Page Here
6) Enter your Promo code (which you got from Krackjack Pack).
7) Login/Sign up on Paytm.
8) That's it, Rs 15 will be credited to your Paytm wallet Instantly.
9) Now You can use it for Mobile Recharge or Bill Payments.
Terms & Conditions:-
1) Participation in this Promotion namely, 'Krackjack Paytm Offer' ("Offer") is purely voluntary and optional. This Offer is not valid in conjunction with any other Offer. Products are also available without this Offer. By participating in this Offer, each participant is deemed to have accepted these terms and conditions given below:
2) This Offer is being conducted by Parle Biscuits Pvt. Ltd./ Parle Products Pvt. Ltd. (herein after referred to as 'Parle') in association with One97 Communications Ltd. ('One97' or Paytm', collectively referred to as 'the Organizer') on One97's platform, namely www.Paytm.com ('website').
3) This Offer is valid in India from 15th March 2017 to 15th September 2017 ('Offer Period') on purchase of Krackjack Packs referred to as "Products" and on limited stocks only.
4) User would not be able to avail the offer after that, even if the product is available and within the product shelf life as mentioned on the individual packet itself. The promo code cannot be redeemed after the expiry of the Offer Period and you agree to waive off right of redemption on the date of expiry of the Offer Period.
5) The Offer is valid for the citizens of India (except the employees and family members of Parle and the organizer, their associate companies, their joint venture partners, its co-packers, their distributors, their agents, their advertising and promotional agencies and their auditors.)
6) To avail benefits of the offer, a Customer needs to buy a pack of Krackjack. The offer is available on the Rs 25 pack of Krackjack only. After purchasing the Products, the Customer will get a unique promo code ("Code") on the inner surface of the product packet. After getting this promo Code, the participant can participate in the Offer and avail Paytm Cash. Paytm cash is the term used to define Paytm cash that the Customer gets when he/she applies the promo code on Paytm website/app. The cash earned this way will be 'credited' in the Paytm wallet and can be redeemed against any purchases from the vendors accepting paytm cash or the same can be redeemed on the paytm website/app. No cash would be given in lieu of Paytm cash.
7) To avail benefits of the offer, the Customer needs to have an internet connection. Any expenses incurred towards the internet connection needs to be borne by the Customer. Internet charges apply as per Customer's internet pack plan. Parle and the Organiser recommend using wi-fi to add money in to the Paytm wallet. Parle and the Organiser shall not be responsible for the problems encountered during the adding money process due to poor internet/ wifi connectivity or inadequate internet/ wifi speed.
8) On successful application of the promo code Rs 15 would be added to user's Paytm wallet within 24 hours.
9) Although, neither Parle nor the Organiser will be liable for any delay in actual redemption, under this Offer, reflecting in the customers' account due to any unforeseen circumstances.
10) It is the sole responsibility of the Organiser to deliver the added money to the Customer's Paytm wallet. Due to any reason if the Customer is not able to add money, he/she has to approach the Paytm customer care.
11) All customer related queries for this Offer can be addressed to care@paytm.com
12) Each promo code can be used once. One user/mobile No. can avail this offer not more than (3) three times.