After Yippee, Pepsi and many more loot offers given by paytm, Now paytm is offering new loot offer on Bingo! Mad Angles. Now You can Get upto Rs 10 Paytm Cash on each pack of Bingo! Mad Angles. This offer is valid from 1st June, 2017 00:00:01 hours (at midnight) and shall close on 15th October, 2017 at 23:59:59 hours. SO Get your Paytm cash now.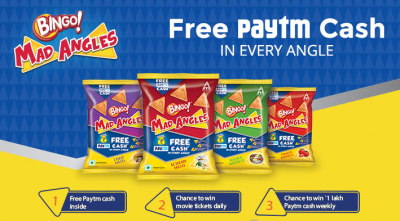 Offer source-
Visit here
How to get upto Rs 10 Paytm Cash on each pack of Bingo! Mad Angles ?
1- Firstly Goto Your Any Nearest Store and Buy pack of Bingo! Mad Angles (Make sure You have purchased pack of Bingo! Mad Angles in which Paytm cash offer is mentioned)
2) After purchasing the Product, Check for a code printed inside the Pack. The Participants will find one coupon code ("the Code") inside a Pack. The Participant can use the Code in the manner described below to avail of the cashback of Paytm cash.
3) Visit the Website
www.paytm.com/madangles
or download the Paytm app ("the App").
4) Register on the Website or on the App and create a Paytm account.
5) Participants who have existing accounts with Paytm can use their existing credentials to avail of the Offer. Apply the Code to receive Paytm Cash into your Paytm wallet.
6) The Paytm Cash is then stored in the Paytm wallet and can be used to purchase any of the products or services available on the App or on the Website. No cash will be given in lieu of Paytm Cash.
7) On successful application of the Code a onetime addition of the respective denomination (Rs. 5 or Rs. 10 respectively) shall be made to the Participant's Paytm wallet.
8) Each Code is unique and can be used only once. A Participant with a Paytm account may avail of the offer twice.
9) To get Paytm cash, Enter the Code printed on the inner laminate pack
10) After Entering it Submit Your Cash Code
11) After Submitting it You Will be received upto Rs 10 Paytm Cash on each pack of Bingo! Mad Angles
12) Now you can use Paytm Cash for Mobile Recharge, Bill Payments & Shopping.
Terms & Conditions:-
>> To know more about terms & conditions,
Pls visit here