now MyVodafone app offering same offer. Subscribe Amazon Prime Video through MyVodafone app and get Rs. 250 cashback. Checkout below post to know more.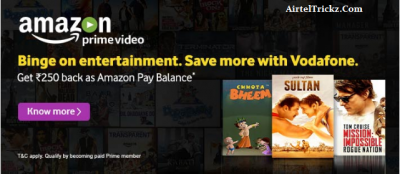 [MyVodafone App] Amazon Prime Video Subscription Rs. 250 Cashback Terms and Conditions:-
• This Vodafone promotional offer ("Offer") is provided by Amazon Seller Services Private Limited ("Amazon") in association with Vodafone India Limited and Vodafone Mobile Services Limited (collectively, "Vodafone India") on the website of www.primevideo.com and its mobile application thereof (collectively, "Primevideo.com") for the Amazon Prime Video service ("Amazon Prime Video Service")
• This Offer can be availed by all post-paid and prepaid subscribers (subject to eligibility) of Vodafone India participating in the Offer during the Offer Period as mentioned herein. Subscriber shall mean the rightful user of the Vodafone India connection; pre-paid or post-paid, in whose name the mobile phone connection number (MSISDN) is registered with Vodafone India. In the event the number / connection is registered in the name of a company/ firm, subscriber shall mean the employee who is authorized to use the connection, in the absence of any instruction in writing to the contrary by the employer. An active subscriber of Vodafone India shall mean a subscriber who uses Vodafone Subscriber Identity Module ("SIM") on a regular basis ("Active Subscriber").
• These offer terms and conditions ("Offer Terms") are in addition to the Conditions of Use to which you agree by using Primevideo.com and the terms and conditions applicable for the Amazon Gift Cards ("Gift Card Terms") issued by QwikCilver Solutions Private Limited ("QwikCilver"). To the extent the Conditions of Use of Primevideo.com are inconsistent with these • Offer Terms; these Offer Terms will prevail with respect to the Offer only.
• This Offer is valid for a period commencing from 18th February, 2017 to 31st December, 2017 ("Offer Period"), unless revoked or extended by Amazon in its sole discretion without any prior notice.
• During the Offer Period any person who: (a) is an Active Subscriber of Vodafone; and (b) signs up for Amazon Prime on Primevideo.com through Vodafone promotional marketing assets, like Vodafone site, SMS, Vodafone App etc; and (c) thereafter becomes a paid member of Amazon Prime within 3 months after free trial completion (such person hereinafter referred to as a "Purchaser"), shall be entitled to receive an Amazon Pay Balance worth INR 250 issued by QwikCilver ("Gift Card"), which amount will reflect as Amazon Pay Balance ("Amazon Pay Balance"). For avoidance of doubt, a subscriber shall be eligible for earning the Gift card worth INR 250 only if he/she satisfies all the three conditions mentioned in this clause. For the purposes of these Offer Terms, wherever the context so requires "you" or "your" shall mean any natural person who is a Purchaser as defined herein above.
• This Offer can only be availed by a Purchaser once, i.e. the first time he/ she meets the above eligibility criteria during the Offer Period.
• In the event any Purchaser fails to meet any of the above stated eligibility criteria or any term under these Offer Terms, he/she will not be eligible to receive the Gift Card under this Offer.
• The Purchaser will be able to purchase the Amazon Prime subscription after 30 days free trial. In case the Purchaser has already availed the free trial, he/ she will be eligible to make immediate purchase of the Amazon Prime subscription.
• Information with respect to the Gift Card will be sent to the registered email ID of the eligible Purchaser by Amazon within 30 days of the date of purchase by a Purchaser.
Prime Benefits:
• Great entertainment-With your Prime membership, you have access to exclusive Bollywood and regional blockbusters, Hollywood movies, US TV shows, award-winning Amazon Original Series, and kids' shows.
• One membership, many benefits- In addition to unlimited streaming, your Prime membership includes FREE One-Day and Two-Day delivery on eligible items on Amazon.in, early access to deals and more – at an introductory price of ₹499/year.
How to Get [MyVodafone App] Amazon Prime Video Subscription Rs. 250 Cashback?
1. Download
MyVodafone Android App
|
Offer Source
2. Sign up
3. Sign in to the Amazon Video app by clicking on Amazon Prime Video banner present on Vodafone site or App.
4. Sign in for Amazon Prime Video service on your device using your existing Amazon account credentials or create a new account. Purchase the Amazon Prime subscription.
5. Customer will be able to purchase the Amazon Prime subscription after free trial of 30 days, in case customer has already availed the free trial, they will be eligible to make immediate purchase of Amazon Prime subscription.
6. Amazon will offer Rs.250 as Amazon Pay Balance within 30 days after purchase of Amazon Prime subscription.
7. Each customer is eligible to receive benefits only once, irrespective of the number of times he signs-in & watches Amazon Prime Video. The offer is also applicable once per device.
8. Customer will be eligible for Amazon Pay Balance only if purchase of Amazon Prime subscription is done within 90 days of completion of free trial.
Offer applicable on Android OS devices only.