Hey AirtelTrickianz Loot time is Here, Monday is Here so New loot for you Wrangler which is very popular American Brand of Cloths which offer Jeans and shirt T-shirt and others fashion appraisals Now they want to Online presence and so Giving Free Rs 500 Gift vouchers to shop any products you want.

For This they Running
#Live2Wander
Contest where You have to sign up with Facebook or twitter and upload any adventure photos like any tour photo of yours to show you are adventure friendly and deserve this Rs 500 Gift vouchers .when you upload your pic you Get Rs 500 voucher direct on your Message which you can use shop on wrangler shopping website any time.
So lets focus how you get this offer ,here we give you step by step Process To Get this offer Just follow each steps carefully to claim your Rs 500 Vouchers.
Step To get Free Rs.500 Wrangler Gift Card For Shopping :-
1. First of All Go to offer Website :- [
Wrangler Offer Page
]
2. Here Sign up with Facebook or Twitter Button.
3. Here submit Your name email and Upload any
Adventure, Biking, Expedition, Travelling
photo from your gallery and upload. (Use any photo or google any tourist place photo and upload it)
4. Now Go To
YouTube.com
And Copy
Any Two Video URLs
And Paste It There
5. Now Write Any Words About Your Traveling Hobby.
6. Click Proceed And Then On Next Screen Click Publish , On Next Screen Your Postcard Will Look Like This :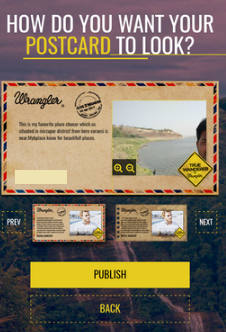 7. Now Just Share It On Your FB/Twitter Timeline On Next Page You have to Enter Mobile Number
8. Enter Mobile No. After Posting On Wrangler Site (It Will Ask There )
9. Enter OTP After Entering Your No. Which You Received .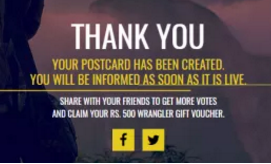 10. Now Within 5 Seconds You Will Get Your Rs.500 Gift Voucher .
11.
Bingo !
You claimed it successfully now Gift Card is Valid On all Wranglers Outlets and shoppers Stop Outlets.
Gift Card Proof :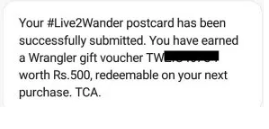 Unlimited Trick :
Use Private Window in fires-fox or Ingot window in chrome to make new account and claim multiple time 500 Gift vouchers Or use your family friends ids to claim 500 Vouchers.